Hi Mona –
This may be my last update from my "Big Adventure in the UK".  We have almost finished the filming of "Sorority Girls" – and have made all the final choices of the five British girls who will continue on.  The final cuts were very hard on all of us – as we've become quite fond of all the girls.  Yesterday we filmed a group of women who were former sorority women in the U.S. who have all moved to the U.K. (ex pat's as they say).  It was great to meet all three of them and they helped us eliminate the final three girls.  They are very accomplished women and their comments and advice was much needed.  All we have left in the filming process is the actual "initiation process" and then the wrap up party with the remaining cast and crew.  I have made so many new friends here and will miss the cast and crew when I return to the U.S. on Sunday and resume my regular job at the Tri Delta house at the University of Oregon.  I will be happy to get my regular hours and schedule back – but know that I will miss all the excitement this opportunity has provided me with!
I had a great time with my friends who came to visit me over here last week.  We headed up to York, which is about 25 miles north of Leeds, a gorgeous, very old city that is filled with historic sites, terrific food and shopping.  I have never been to a city surrounded by ancient walls (still standing), cathedrals filled with fabulous stained glass windows, and small winding cobblestone streets with enchanting shops, and great restaurnats. Some of the tea rooms and the pubs have unusual names like The Hairy Fig, Slug and Lettuce, Filthy McNasty's, The Wonky Donkey, and my favorite Pickles and Potter….much more creative names than we have in the States. We took in a boat cruise and a Double Decker bus tour – and were lucky enough to catch a sunny day for our adventure.  York Minster houses fifty percent of all the stained glass in England – unbelievable!  See below.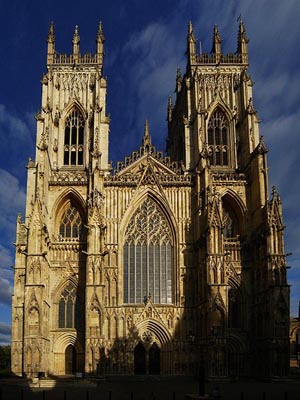 I can't tell you how impressed we were by this historic town….a must see!  Here is a picture of the town encased within the walls.
—
Hope these photos transfer over – it really was spectacular!  Above is the area they call "The Shambles" so amazing with tiny narrow streets filled with amazing shops, tea rooms and pubs.
Thanks for all your well wishes…and your support during this adventure.  The show will air sometime in November on E4 which is a cable network over here in the U.K.  I will be able to post some photos of the shoot once I return to the States.  They aren't allowing us to show anything prior to the end of filming!
Deb
Life's journey is not to arrive at the grave safely in a well preserved body,
but rather to skid in side-ways, totally worn-out, shouting "Holy moley… What a ride"!